Winter Flu vaccination
Please check the Winter Flu vaccination page for information and frequently asked questions.
Blister Packs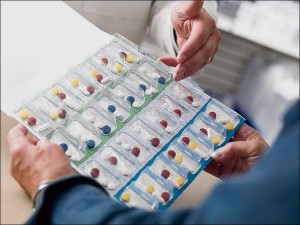 For patients that need help managing their medicines, we offer a free blister packing service.
Blister packing of medicines eliminates the confusion that can be associated with complicated regimens. Medicines are arranged in weekly blister packs, and the tablets are separated into compartments based on day of the week and time of day.
This service helps people who are taking multiple medicines or those who worry about missing a dose. Carers can also find this service very useful.
Having your medication blister-packed may be the answer. Just talk to our Pharmacist and it can be organised for you.
Free Prescription Collection
We are offering a Prescription Collection Service from all local Doctors' surgeries, where your Doctor agrees. If you have regular prescriptions why not ask our pharmacy to collect the prescriptions for you?
We will prepare the prescriptions and have it ready for collection when it most suits you. Simply order the prescription in the normal way, then contact the pharmacy and we will arrange the collections and tell you when your medication will be ready.
Please note most surgeries require 48 hours notice for repeat prescriptions
Free Prescription Delivery Service
We are offering a free prescription delivery service. We deliver dispensed prescriptions directly to the patient's house. Just phone the pharmacy to organise. We can deliver within a 15 mile radius of Mullingar.
Emergency Oral Contraception
Emergency Contraception is available at Mary Street Pharmacy. The contraceptive pill Norlevo 1.5mg ("the morning after pill"), is now available to purchase without a prescription, following a private consultation with our pharmacist.
Over the Counter Medicines
We stock a wide range of well known over the counter medicines, vitamins, tonics, supplements and first-aid products. The Pharmacist is available for advice on all medicines and minor ailments, in private, if required.
Disposal of Unwanted Medicines
Please return all unwanted or out-of-date medicines to the pharmacy where we will safely dispose of them.
Residential and Nursing Care Homes
We can provide full pharmaceutical services to all care homes. This includes advice on use, storage and disposal of medicines, training of care staff and delivery arrangements.
Health Screening
We offer a comprehensive health screening service to help you with your healthcare needs. A simple finger prick and sample of blood is used for screening for blood glucose and cholesterol the results take only a few minutes. Our Pharmacist will be happy to explain your results and advise what further action you need to take. Our Pharmacist can also assess your risk for heart disease and provide you with valuable information to help maintain a healthy lifestyle. We recommend fasting prior to your blood tests.

Our Keito machine offers customers blood pressure, height, weight, body fat and body mass index (BMI) tests. We encourage you to talk to our Pharmacist about your readings.
Cardiovascular disease is the biggest cause of death in Ireland. For many people heart disease and stroke can be delayed or even prevented. Healthy eating, being physically active and not smoking can all help to reduce your chances of heart disease. One of the best ways to prevent heart disease and stroke is to keep your cholesterol at a healthy level.
DISCLAIMER: THE SCREENING OFFERED IN MARY STREET PHARMACY IS EXACTLY WHAT IT IS DESCRIBED AS SCREENING. THE TESTS OFFERED ARE NOT DIAGNOSTIC IN NATURE BUT ARE AN AID TO DETERMINING WHETHER PATIENTS NEED TO BE REFERRED TO THEIR GP FOR FURTHER INVESTIGATION.
Chiropodist & Podiatrist Clinic
Our chiropody clinic is in-store with registered Chiropodist & Podiatrist Clare Cullinan BSc (Hons) Pod MChSI.
The clinic will run every Thursday 9.30am to 11.30am and will deal with diabetic foot screening, rheumatoid arthritis foot-care, biomechanical assessments, ingrown toenails, painful feet, nails, corns and callus. For further details call us.
List of Podiatry Treatments
Corn Enucleation
Callus removal
Toe nail management – Fungal nails, Ingrown nails, Thick nails
Sports related nail injury
Foot strapping – used for Athletes and Dancers.
Biomechanical assessments – diagnose and treat problems of hips, knees, ankle, feet associated with range of movement and muscle tightness
Verruca treatment
Heel Pain – Plantar Fasciitis
Athletes foot/Fungal nail treatment
Special needs foot care treatment
Rheumatoid arthritis foot care screening
Diabetic foot care screening
Paediatric foot care
Orthotics for athletes
Footwear advice, foot care advice, foot strapping advice for injuries
Parkinson's foot care management
Multiple sclerosis foot care management